Fundraisedd Weekly
Week 40 - "Invest in lines, not dots" / Pitch Deck Teardown: Postmates
Dear reader,
It's a pleasure to welcome you to the first edition of my weekly newsletter, Fundraisedd.
Every Monday, I'll be talking about fundraising, startup finance, and business strategy.
This week, we'll look at Postmates' pitch deck into more detail, focusing on what I consider to be their killer slide.
We'll also discuss an article by Mark Suster about startup investing and how to get it right, both for the investor and the entrepreneur.
I would love to hear back from you, so don't hesitate to leave your feedback in the comments.
Have a great week,
Nicolas
---
Pitch Deck Teardown: Postmates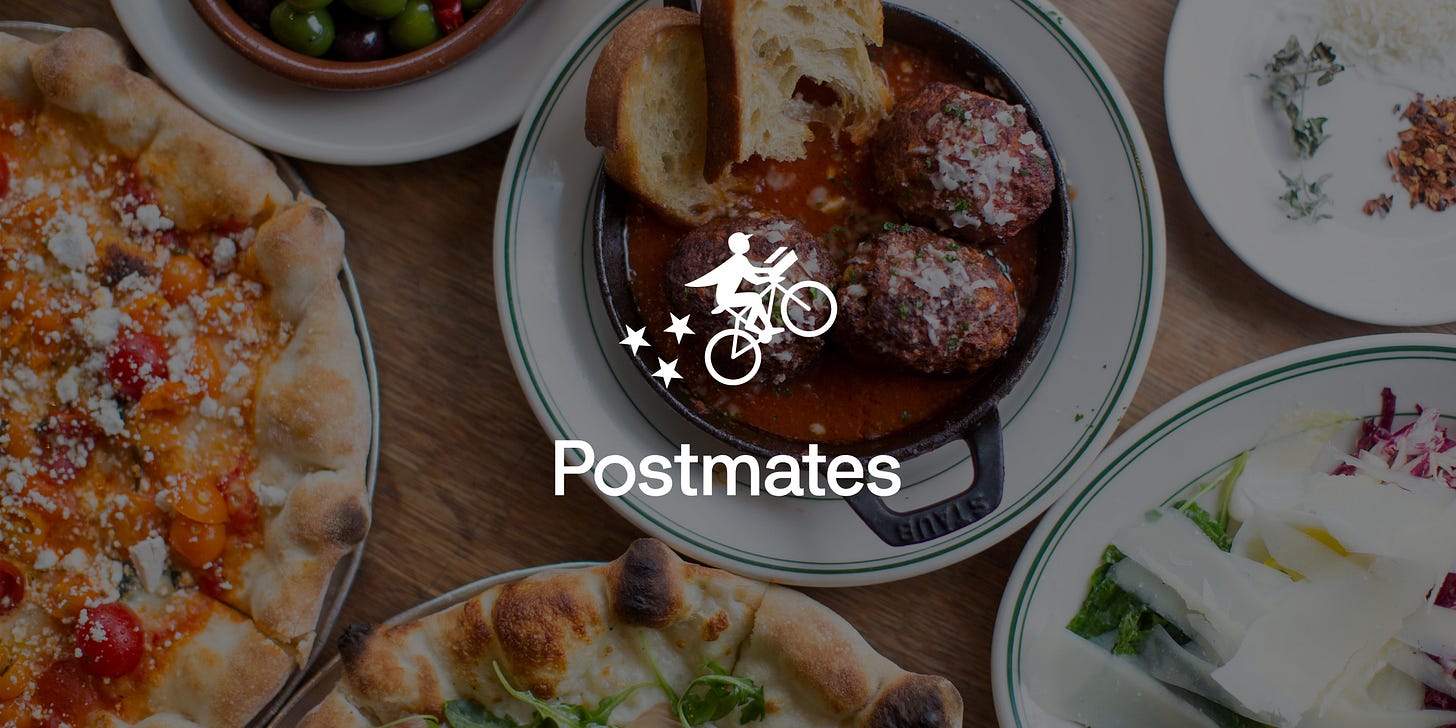 Logo and background image from Postmates Press Kit, illustration courtesy of the author.
In 2011, Postmates founders Bastian Lehmann, Sean Plaice, and Sam Street raised $750k with a simple deck and a grand vision: to disrupt the shipping industry by offering "insanely personal local deliveries."
You can read my full teardown on Medium, but I want to discuss here in detail what to me is the killer slide: the one addressing market size.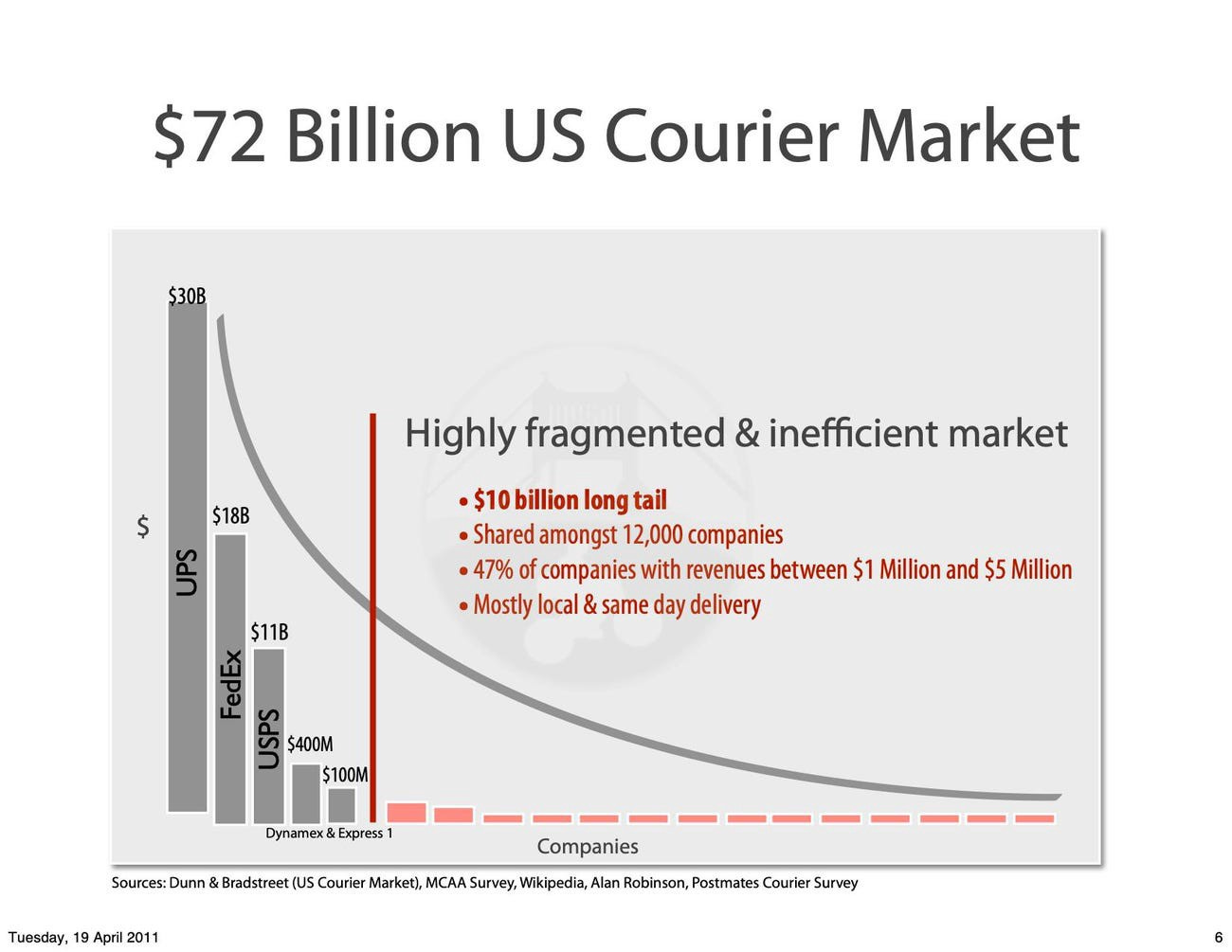 In every deck, there are always two tricky slides. The one about market size and the one about competitors. Both are usually based on assumptions made by the founders to make their potential market look huge and their competitors look bad.
Knowledgeable investors aren't fooled that easily. That's why you need to make your slides as objective and factual as possible.
Think about it this way: if your solution isn't objectively better than the competition on specific points, is it really worth selling, let alone investing in it?
The slide above is brilliant because it delivers an amazing promise based on objective data and also explains the strategy to achieve it.
The amazing promise is that of the $72B-a-year courier market, $10B come from thousands of small, local companies. The objective data comes from respectable third party sources that are mentioned on the slide.
As for the strategy, it's not a secret that the shipping industry is dominated by a few behemoth companies. FedEx operates over 600 aircraft, making it one of the largest airlines in the world. UPS runs a fleet of over 119,000 trucks and DHL delivers more than 1.3 billion parcels per year.
Going after these companies is nearly impossible for a startup. The barriers to entry are huge and the capital required to do so would be in the tens of billions. It would be way too ambitious to make such a promise, and Postmates knows it.
Their mission was to disrupt local delivery, a service offered by a myriad of smaller companies (12,000, as the slide shows), half of which have revenues in the $1m to $5m range.
Profit margins in the industry are notoriously low: DHL's hovers around 4%, FedEx's is around 2.5%. We can expect the 12,000 smaller players Postmates is after to earn similar figures. In such an industry, two words are key: volume and optimisation.
Leveraging the platform business model and the latest technologies available, Postmates would be able:
to launch its service in thousands of locations with limited capital expenditure (volume)

decrease its operating costs and offer its service at a lower price point while delivering better user experience (optimisation)
In roughly 40 words and 1 chart, Postmates has demonstrated that a large part of the market is "ripe for the taking," that this addressable segment is worth $10B a year in revenues, and that its economic structure will allow a well-financed, customer-oriented newcomer to beat the incumbents.
That's a killer slide if I ever saw one.
You can read my previous teardowns on Medium: Airbnb, Opendoor, Sumo Logic.
---
Quote of the week
Invest in Lines, Not Dots

—Mark Suster, 2010, Source
I stumbled upon this quote in a tweet by Garry Tan of Initialized Capital last week and loved it so much I had to comment. Garry pointed me to the 2010 article by Mark Suster where he had read it. I recommend you read it too, it is a short and insightful piece.
Suster's main point is that a valuable investor-entrepreneur relationship is built through multiple encounters over many months/years. Recurring interactions allow both the startup and the VC to follow each other's trajectories and decide whether they're a good fit.
He concludes with 2 key learnings for investors and entrepreneurs:
Investors — If you invest in dots don't be surprised when the trend isn't in the direction you would have hoped.
Entrepreneurs — I know VCs and sophisticated angels can be difficult, slow and price sensitive, but I also know that in tough times unsophisticated investors can be a right pain in the arse. […] By definition if somebody is investing in you as a dot […] they are a dot to you, too. You can't really know them in 2 minutes yet you're letting them own part of your business.
I would add that Suster's quote can and should also be understood outside the context of VC investment deals.
As an entrepreneur, you interact with a wide variety of stakeholders (customers, suppliers, banks, insurance, government agencies,…). The relationships you build with them will shape you and your company.
The coronavirus crisis has proved the importance of building and maintaining a strong network around your company to navigate through turbulent waters.
In that context, "invest in lines" can be understood as "put your energy into building continuity and rectitude in your business relationships" and, as a corollary, build stronger ties with partners who display the same attitude towards you.
---
Suggested reading
If Your Pitch Deck Has a Competitive 2×2, I'm Going to Ask You This Question — Hunter Walk, VC @ Homebrew
How To Invest In Startups — Sam Altman, ex-President @ YCombinator, CEO of OpenAI
And for a break away from business:
Mesmerizing Photographs of Historical Figures With Their Direct Descendants
---